Most recently, SIC project managers Ieva and Marta went on an inspiring visit to Berlin and Leipzig to meet Social Impact Lab Leipzig / Social Innovation Competence Centre of Germany, Impact Hub Leipzig and Impact Hub Berlin. During this visit from 18th to 19th July they had the opportunity to observe the methods and approaches in communicating about social impact, as well as fostering it among target audiences. The findings and discussions with representatives of the organizations led to very important ideas and insights for improving SIC communication strategy, as well as a potential future strategy of change. Very exciting changes are ahead!
ABOUT SOCIAL IMPACT LAB LEIPZIG
Choice to visit Social Impact Lab in Leipzig was not coincidental. They are leading partner in the project European Social Innovation Alliance which revolves around developing social innovation competence centres in several countries, including Germany.
Therefore, they are the main actor creating such centre for German social impact ecosystem. In our visit we had a wonderful chance to talk about the structure and strategy for developing a unified entity devoted solely to fostering social innovation, as well as multiple aspects regarding that being the topic for communication with a broader society. Their impressive work with policy makers and a variety of other stakeholders gave a great insight in the potential activities and tone of communication that SIC could use for the changed strategy in future.
ABOUT CONCEPT OF IMPACT HUBS AND THE VISITS
It is a global network of locally-founded/-operated impact innovation incubators, accelerators, co-working spaces, and nonprofit organizations that aim to provide impact-driven entrepreneurs with tailored support, a collaborative co-working community and connection to the growing global network (currently more than 100 locations in more than 60 countries).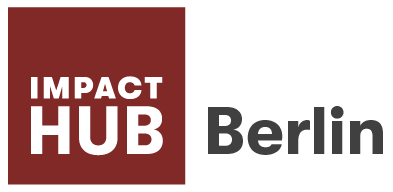 In the visits to Leipzig and Berlin Impact Hubs SIC was able to observe the role of physical space, as well as networking among various sectors and stakeholders in context of social impact fostering and leading. For example, in their new ecologically sustainable location, Berlin counterpart is now able to provide with makerspaces for food, circular economy, green technology and other entrepreneurs that are looking for developing tangible innovative solutions for positive impact in society. Seeing the tangible effects of these Impact Hubs on entrepreneurs and the ecosystem allows to appreciate and consider the potential of developing a unified space for social impact drivers to meet back in Latvia, too.
ABOUT THIS PROJECT
With the start of this year we also start our work with the project "Creation of strategy of change and raising the communication capacity of Social Innovation Centre", funded by the "NGO Fund" of Social Integration Foundation of Latvia. During this project we will try to find out the understanding of Latvian society about social innovation in Latvia, as well as the most effective means in informing them about this topic. Basing on the gained results, SIC will improve activities, communication and the publicly available brand from various aspects. The duration of the project is planned until October 31st, 2022.
Raising the capacity for SIC as an organization will allow strengthening the role of an opinion leader, as well as the public image in the field of social innovation, and moving towards other strategically significant goals (potentially, becoming one of the founders for the competence centre for social impact in Latvia). With this project we will have an impact on the growth of the organization, and strengthen its role in the NGO sector as well as broader.
Read more about this project HERE.
---
This article was created with the financial support of Society Integration Foundation from the means of the national budget of Latvia within project "Creation of strategy of change and raising the communication capacity of Social Innovation Centre", contract No. 2022.LV/NVOF/MAC/049/36. Only Social Innovation Centre can be held responsible for the content of the article.
Dalies:
0
0
0
0
0